Job Opportunity: Collection Manager at SK Finance Ltd
Are you a dynamic and driven professional with a passion for managing teams and optimizing collection processes? Look no further! SK Finance Ltd is seeking a dedicated Collection Manager to join our team and take charge of our collection portfolio.
Position: Collection Manager
Company: SK Finance Ltd
Location: Ratlam
Job Type: Full-Time
Roles and Responsibilities:
– Lead and manage a team of skilled professionals across 20 branches, ensuring they are motivated, trained, and aligned with the company's collection strategies.
– Oversee both soft and hard bucket cases of vehicle loans, implementing effective strategies for recovery while maintaining positive customer relationships.
– Develop and execute collection strategies, policies, and procedures that minimize risk and maximize collection success.
– Monitor and analyze collection performance metrics, identifying areas for improvement and implementing corrective actions as needed.
– Collaborate with branch managers to streamline collection processes, ensure compliance with regulations, and drive operational efficiency.
– Build and maintain strong relationships with customers, resolving escalated collection issues while preserving the company's reputation.
– Provide regular reports and updates to senior management regarding collection performance, trends, and challenges.
If you are a strategic thinker, a motivated leader, and ready to take on the challenge of managing a diverse collection portfolio, we encourage you to apply!
To apply, please send your resume to chandrakant.girdhar@skfin.net or priya.shrivas@skfin.net
SK Finance Ltd is an equal opportunity employer. We appreciate all applications; however, only those selected for an interview will be contacted.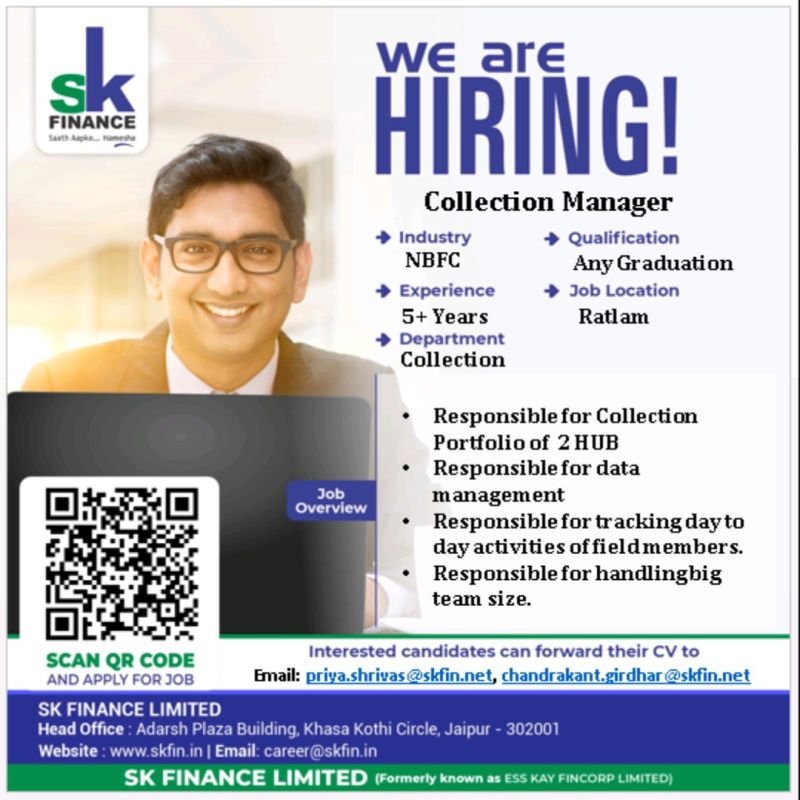 Thank you for reading this post, don't forget to subscribe!
Join Our WhatsApp Group - JOIN NOW
Join Our Telegram Group - JOIN NOW